Healing the Nation: Literature, Progress, and Christian Science
Book Summary
Since 2010, Hollywood actor Val Kilmer has been touring the United States performing one-man shows in the character of Mark Twain. Though entertaining in its own right, this tour originated as an effort to prepare for and promote an independent film project that has been gestating since 2002,  an historical epic depicting the contrasting lives of Samuel Clemens and Mary Baker Eddy, the founder of Christian Science.
Like many of his contemporaries, Clemens was both fascinated and deeply concerned with the growth of the religio-medical sect that Eddy founded. Though the Clemens family had dabbled with sectarian medical theories–including methodologies quite similar to Christian Science–for decades, the author viewed Eddy herself as a dangerous authoritarian figure. In 1907, he published a book called Christian Science and began a never-to-be-finished short story called "The Secret History of Eddypus: World Empire," a piece of dystopian fiction imagined as a sequel to A Connecticut Yankee in King Arthur's Court.
But Mark Twain was hardly alone among literary figures of public note in his preoccupation with Christian Science. While Twain was penning polemics, respected novelist and New York Times correspondent Harold Frederic was dying slowly of complications following a stroke as doctors battled with the Christian Science practitioner who had been summoned by his mistress.
In 1907, Willa Cather, fresh off the success of Alexander's Bridge, joined the staff of McClure's. Her first assignment: editing a serial biography of Mary Baker Eddy by a young journalist named Georgine Milmine and previously edited by Ida Tarbell and Burton Hendrick.
During this same decade, Theodore Dreiser was visiting a Christian Science practitioner with his estranged wife Sara amid the ruins of their crumbled marriage and the intense personal crisis precipitated by the commercial failure of Sister Carrie. He would go on to write about this experience for 80 pages of the semi-autobiographical novel The "Genius," published in 1918. Frances Hodgson Burnett likewise became fascinated with Eddy's teachings, an interest made manifest in A Little Princess, The Secret Garden, and The Dawn of a Tomorrow, novels that explore the ability of the mind to shape material circumstances.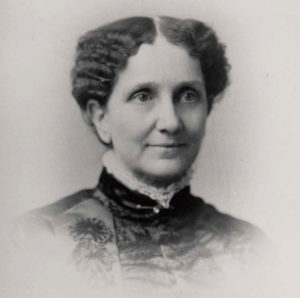 In my book, Healing the Nation: Literature, Progress, and Christian Science, I ask why a movement like Christian Science, which now numbers its membership in the tens of thousands rather than the millions, came to be such a phenomenon that it left no part of the American canon untouched. I also seek to complicate easy assumptions about what this cultural debate represented.
Because it emerged at an historical moment when the modern medical profession was just beginning to take shape, Christian Science has been easily characterized by twentieth and twenty-first-century critics alike as an anti-modernist throwback that resisted the tide of progress in favor of a more religiously centered model of healing and self-improvement. Its adherents still frequently, but not universally, eschew medical treatment in favor of spiritual healing, believing that human beings created by God are fundamentally perfect and that disease and disability are little more than the products of delusion. All that is necessary for healing, argues Eddy in her masterwork Science and Health, is the realization that one is actually well.
For critics, Christian Science is therefore to be blamed for many preventable deaths. And for many of Eddy's contemporaries, it was considered a threat to the very fabric of modern civilization. Thus, to some scholars, the hostility of Twain toward Eddy and Christian Science, not to mention that of Upton Sinclair, Gertrude Stein, Edith Wharton, and Ernest Hemingway, has always seemed fairly straightforward and easy to explain. Likewise, the affinity for Christian Science manifested in the life and work of Theodore Dreiser, Harold Frederic, Frances Hodgson Burnett, and Mina Loy has always been a perplexing, even embarrassing, part of their legacies.
But to characterize the furor over Christian Science in those terms is to misunderstand something fundamental about the people who participated in it and the cultural landscape they occupied. During its heyday, Christian Science was the epicenter of heated and wide-ranging public debates, which included manslaughter trials, sensationalistic newspaper headlines, internal battles in the American Medical Association, and legislative efforts to curtail the activities of religious healers. These debates were complex, with many intersecting interests in play. Everyone—doctors, lawyers, legislators, ministers, and the citizens they claimed to serve—had a stake in the large-order concerns they raised: freedom of religious expression, therapeutic choice, journalistic ethics, freedom of speech, the nature of professionalism itself, and the entrance of various minorities into white-male dominated arenas.
And what is surprising is the degree to which interests on all sides shared an investment in the idea of scientific progress and a kind of rationalized spirituality—distinguished by both Christian Scientists and their critics from "outmoded" forms of religion—as essential for the progress of humanity and the future of the United States in the world. Christian Scientists claimed the authority of both "Christian" and "Science" with equal fervor even as their enemies insisted they had the right to neither. The story of Christian Science and the furor that surrounded it is not the story of how the enlightened proponents of modern, secular, scientific ideals swept away a particularly pernicious form of supernaturalism. It is rather the story of how various competing forces contended over who had ownership over the fundamental narratives of modernity. All appropriated the rhetoric of "progress," of the turning back of a bygone era in favor of a new one, even as they raged vehemently against one another over what that progress ought to look like.
The purpose of this book is to examine the relationship between American literary history and Christian Science by examining the narratives that were produced around it, from the story that Eddy shaped over the years of how she "discovered" Christian Science by healing herself of a supposedly fatal injury to the representation of her theories by doctors and journalists and by literary figures such as Twain, Dreiser, and Burnett. These investigations will elucidate texts that have thus far been nearly inaccessible due to poor contextual understanding—in particular, Twain's Christian Science and Dreiser's The "Genius" (by far the least studied of all his novels), not to mention the involvement of people like Cather and Tarbell in Eddy's biography. This inquiry also participates in an ongoing re-examination of disciplinary assumptions that drive the field of American literary studies, where secularization narratives have remained surprisingly durable, given the ongoing importance of religion and spirituality in American public life.
This book is currently under contract with Indiana University Press (Religion in North America series) and will appear sometime in 2017.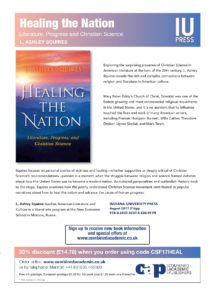 Related Work:
"Humble Humbugs and Good Frauds: Harold Frederic, Christian Science, and the Anglo-American Professions." Forthcoming. (SSRN)
"Christian Science and American Literary History." Literature Compass 13.4 (Spring 2016): 227-235. (LiCo)
Squires, Ashley. "All the News Worth Reading: The Christian Science Monitor and the Professionalization of Journalism." Book History 18 (Fall 2015): 235-272. (Project Muse)
Squires, Ashley. "The Standard Oil Treatment: Willa Cather, The Life of Mary Baker G. Eddy, and Early 20th Century Collaborative Authorship." Studies in the Novel 45.3 (Fall 2013): 328-48. (Project Muse)
Squires, Ashley. "The Tragedy of Desire:  Christian Science in Theodore Dreiser's The "Genius."  American Literary Realism 45.2 (Winter 2013): 95-117. (Project Muse)
In 2012, I also participated in the Former Fellows Colloquium at the Mary Baker Eddy Library, where I was awarded two fellowships for archival research. Watch the video here.
(Photo Source: Pasadena Playhouse)