How I Got Here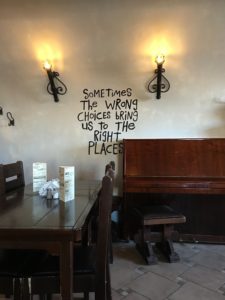 I don't know if it's the case that I made a lot of wrong choices to end up in this particular place, though you could argue that pursuing academic work in the Humanities was inadvisable even in the most optimistic estimation. But being in Russia was a choice. At the end of my graduate school studies, I volunteered to teach a summer course in American literature to a group of students visiting the University of Texas from the New Economic School in Russia. During that time, while I was also considering my job prospects in the future, I came to discover that the school and the students I was working with were special indeed.
The New Economic School was founded in the early 90s to give students from the former Soviet Union a place to study modern economics. It has since achieved a stellar reputation in a country where most people do not have a high opinion of their institutions of higher education. The students I taught in 2012 were enrolled in a BA program run jointly with the Higher School of Economics, Russia's largest public university, and it is designed to offer them a US-style liberal arts education on the way to getting a degree in economics. I was hired to teach English courses and to direct the Writing and Communications Center, the first US-style undergraduate-focused writing center in the country. In the past three years, I also helped found the Department of Humanities and Languages, which provides much of the "liberal arts" content for this program.
Working in Russia has taught me to take nothing for granted. What we do in this school and in this program has high stakes for the faculty, the students, and the culture that surrounds it. The rising political tensions between Russia and the rest of the world as well as the growing economic insecurity have taught me to make the most out of every day I spend here and get to continue doing what I am doing. In addition to getting to see parts of the world I might never have seen otherwise (I did not have opportunity to travel outside my home country prior to this), I have gained experiences, skills, and insights as both a teacher and a researcher that should serve me well no matter where I wind up in the future. In addition to learning about another culture and bearing witness to important moment's in another nation's history, I have come to see the literature and culture of my own country in a different way. "Transnationalism" is a word often used among scholars of American Literature, but very few of us get to truly inhabit those spaces and those moments that epitomize the emerging set of political, cultural, and economic relations of the twenty-first century.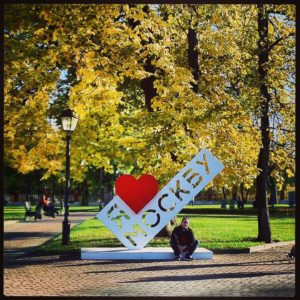 At the moment, I teach our version of "freshman comp" (called Advanced College Writing due to the English language requirement) and a variety of electives in American literature and culture, including "Religion and the Making of American Culture" and "Theodore Dreiser in International Perspective." I have finished writing the book version of my dissertation, But Now I See: Christian Science and American Literary History, my contribution to the "religious turn" in American studies. The persistent importance of religion to American culture is one that continues to pre-occupy me–partly due to my own evangelical upbringing–and will likely continue to influence my scholarly work going forward. But I am also turning my sights to research questions provoked by my time in Russia, including what the role of Anglophone literature will be as English becomes the lingua franca of many top university programs around the world. I have also been fascinated by the ways in which American literature is read in Russia, and–with the assistance of many students and colleagues–am investigating the reception history of American authors who were prominent in the Soviet Union and in modern Russia.
Related: